This plugin will add a tab on the user community builder profile that will display the VirtualMoney account page.
Please note that this plugin isn't a joomla plugin but a Community Builder plugin.
In order to install this plugin, click on the 'Plugin Management' link on the Community Builder Submenu.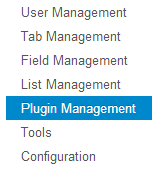 Then select the zip folder containing the communitybuilder_virtualmoney_plugin and click Upload File & Install.

All you need to do to finish the installation is to publish the plugin.