Creating Your Virtual Currency

1. Click on the 'Options' link to open the configuration page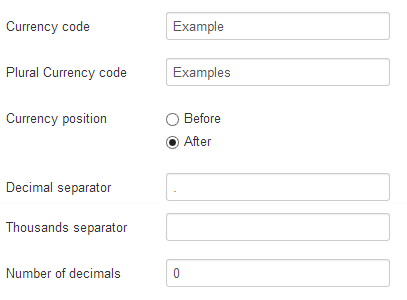 In the configuration page, you can create your virtual currency by completing the fields 'Currency'.
Currency code: the name of your currency
Currency plural code: the plural name of your currency
Currency position: Whether the name or symbol of your money should appear before or after the number, i.e. $12 vs 12€
Decimal separator: The decimal separator of your currency
Thousands separator: The thousands separator in your currency
Number of decimals: The number of decimals displayed by the currency
By default, some fields are pre-filled. The default currency name is 'Credit' with no symbol.
In our examples, we use the following currency:
Currency code: Example
Currency plural code: Examples
Currency position: After
Decimal separator: .
Thousands separator: space
Number of decimals: 0